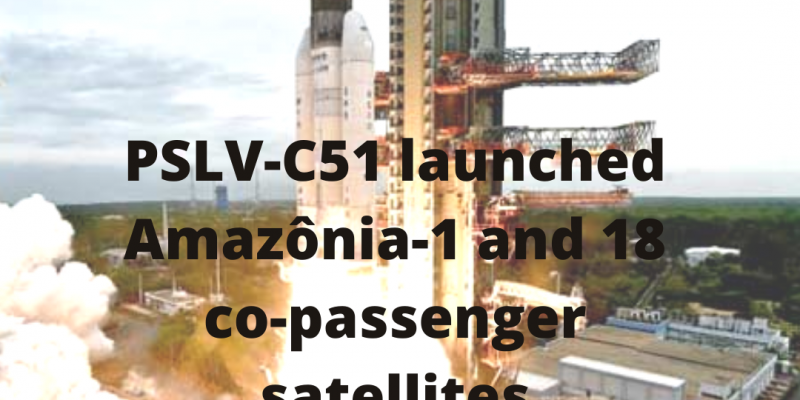 Definitely, PSLV-C51 (mission) is going to be a first of its kind in the country. It is going to initiate a new era of space reforms in India, and I am sure that these private people will take this activity further and provide services for the entire country – K Sivan
Let's know about this legendary mission that will reform the space era in India!
It was the 53rd mission of the Polar Satellite Launch Vehicle (PSLV).
But why this mission took a copy of Shrimad Bhagavad Gita and a photo of our Prime Minister Narendra Modi. What is different about this mission? Why was Anand satellite dropped at the last minute? Let's find out!
About the Mission:
PSLV C-51 launched Amazônia-1 and 18 co-passenger satellites from Satish Dhawan Space Centre, SHAR, Sriharikota. These 18 co-passenger satellites consist of four from IN-SPACe, which consists of One Satish Dhawan sat from Space Kidz India and three UNITYsats from the association of three Indian academic institutes: 
JITsat developed by Jeppiaar Institute of Technology, Sriperumbudur

GHRCEsat by G H Raisoni College of Engineering, Nagpur

Sri Shakthi Sat by Sri Shakthi Institute of Engineering and Technology, Coimbatore 
Fourteen satellites from NewSpace India limited (NSIL) are also parts of eighteen co-passenger satellites consist. The mission will use PSLV-DL having two strap-on boosters.
Main Satellites:
Amazônia-1 was the primary payload of PSLV C-51. It is the first optical Earth observation satellite that has been entirely developed by Brazil's National Institute for Space Research (INPE), which comes under the Ministry of Science, Technology, and Innovation. 
Amazônia-1 is a Sun-synchronous polar-orbiting satellite that has the power to generate images every five days. It consists of a wide-view optical camera with three visible frequency bands and one near-infrared band. It will help to monitor diversified agriculture across the Brazilian territory and monitor deforestation in various regions of the Amazon.
Satish Dhawan Satellite (SD SAT) is the satellite from Space Kidz, which is named after our former ISRO chairman Satish Dhawan. The satellite will study the space radiation, magnetosphere and also demonstrate the nanosatellite components, which are Made in India.
The satellite will also test the capabilities of lower-power wide-area network modulation (LoRa), which would be helpful in the future for application in short and machine-to-machine communication (M2M). This is the satellite that is carrying not only 25 thousand names of the general public, but also a photo of our Prime Minister Narendra Modi and a copy of Shrimad Bhagavad Gita. 
What is the reason for that?  The Space Kidz India founder and CEO Dr. Srimathy Kesan, in one of the interviews, said, "The Shrimad Bhagavad Gita teaches people about oneness and also tells them about managerial skills. And especially in the aftermath of the pandemic, I thought it would be good to send a book that taught us about worldly brotherhood, and the Bhagavad Gita was the only book that I could think of."  
Why a photo of our Prime Minister? Dr. Kesan said, "We are a small space company, and we did not have all the facilities needed to send satellites to space. However, the opening up of the sector to the private players and us getting access to facilities and labs was a big deal."
"That was something that had not happened for 50 years, but it happened now. So, we decided to send an image of the Prime Minister as a mark of our gratification. Apart from that, the picture is also a symbol of gratification for the 'Atmanirbhar Bharat' initiative, especially because all the components in our satellite are indigenously produced." 
What is different about this mission?
PSLV C-51 is a special mission for ISRO as well as India. It was a fully commercial launch. It starts a new era of Space reforms in India as private companies can participate in the entire range of Space activities, including Planetary Missions. This mission was also the first PSLV executed by NewSpace India Limited (NSIL).
 NewSpace India Limited (NSIL) is a Public Sector undertaking that has become the commercial arm of ISRO. NSIL has managed launches of Small Satellite Launch Vehicle (SSLV), which is developed and manufactured with the help of ISRO and Private Indian industries. NSIL is also involved in small satellite technology transfer to industries that will help manufacture and Co-produced SSLVs and PSLVs with the help of ISRO.
Anand 
Anand was one of the secondary satellites which are built by an Indian Space Start-up company Pixel. Anand is one of the 30 constellations of advanced earth observation satellite which plans to offer a new kind of dataset which can take global coverage every 24 hours.
This dataset will help various organizations to detect, monitor, and predict global occurrences in real-time. Anand is different from another earth observation satellite because it has Artificial Intelligence based algorithm to offer crucial insights that will help many industries such as agriculture, forestry, climate change monitoring, and others.
Due to certain software issues, Anand was not able to launch as planned. The company said that "Given the time and effort that has gone into making the satellite, it did not make sense to rush a satellite to launch in which we do not have complete confidence at this time. We have thus decided to push our launch by a few weeks, re-evaluate the satellite software, and test it rigorously over the next few weeks as we look for the next closest launch opportunity."
DRDO's satellite onboard PSLV-C51 to keep a tract of Indian Ocean Region 
ISRO launched DRDO's satellite named "Sindhu Netra" which will help in tracking the activities of military and merchant navy ships in the Indian Ocean Region. It was launched as a part of the launch of Bazil's Amazonia-1 and 18 co-passenger satellites onboard PSLV-C51. The satellite can reportedly help in carrying out the surveillance in specific areas such as the Ladakh and Southern China sea regions.
The Indian security agencies feel there is a requirement of four to six dedicated satellites, which can help to keep track. DRDO is also setting up a Defence Space Agency along with a Defence space research organization to protect space by being attacked. This space branch of the defense forces will certainly be a great reinforcement in the near future.
For the first time, ISRO tests satellites developed by private-sector startup 
Two Indian space sector startups, Spacekidz India and Pixxel were tested at the UR Rao Satellite Centre of the Indian Space Research Organisation in Bangalore. It is for the first time, ISRO had opened up its facilities for the private sector. ISRO helped these two companies fix problems with the solar panels on their respective satellites.
Indian Space Research Organization (ISRO) is one of the world's top organizations of space research and exploration. This step towards space will open the gate for brilliant and talented minds to come forward and contribute to the space sector of the country. It will not only help ISRO but also help India become a self-sufficient country.
Author
Hardik Kumar Mahajan
Co-Author
Bandaru Umamadhuri