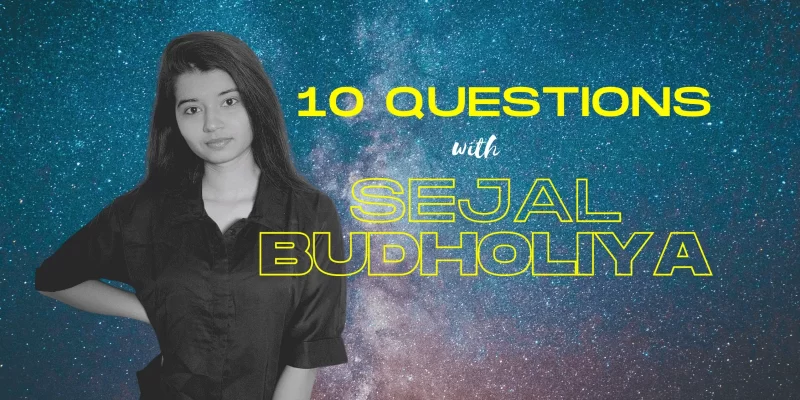 Sejal Budholiya
________
Interview by Aparna Ravi
Cheery right off the bat, my conversation with the all-rounded Sejal Budholiya was one that gives a person a deep insight into who Sejal is as an individual, the kind of work she dedicates herself to, and her vision behind the same. Juggling several roles like that of an artist, dancer, and science communicator among many more, Sejal is currently pursuing mechanical engineering. Known for leading revolutionary campaigns like 'Gaia' and presenting her ideas for menstruation in space at the UN General Assembly, Sejal is passionate about aerospace product development, space sustainability, and utilizing design in space for life on Earth.
Here are a few excerpts of the candid conversation from the woman of the moment herself!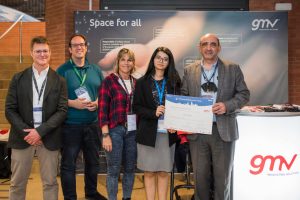 Sejal receiving a full scholarship to attend the Symposium on Space Education Activities (SSEA) 2022 in Barcelona, Spain.
How would you introduce yourself?
Sejal: Hi, I'm Sejal Budholiya! I'm a final year Mechanical Engineering student at VIT and I'm currently interning at Collins Aerospace which has been my dream company. I've wanted to be in space since I was twelve and finally getting to work on the field has been amazing!
Was there a defining moment in your journey that lead you to actively get into research and projects in Aerospace?
Sejal: Flights and aircrafts, in general, have always fascinated me. The first time I ever flew on a flight was when I was eight and that's when I realized that I'm on a metal tube that can fly and I think my inquisitive nature took on from then. At 12, I started reading a lot more books that initially had me wanting to pursue Cosmology to study the Big Bang, space and being an astronaut and while a majority of us went through those interests as a phase, I just never let go of it. 
A lot of your work involves topics that are socially conscious – be it menstruation in space or space sustainability. Can you give us an insight into the same? What really started it all?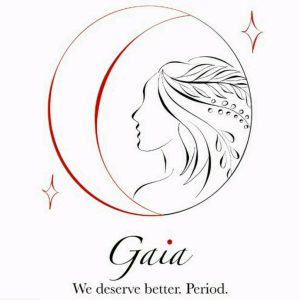 Sejal: Starting from "Gaia"-the project about menstruation in space, it all honestly started when I came across a post on Instagram wherein Sally Ride was asked about the number of tampons she uses in a week in space. This post got me thinking of how menstruation works in space and how women get through it. I then reached out to several people in the community and people working on reproduction and menstruation in space and spoke to them to get a better idea on the subject. While working through these conversations, I realised that there existed a logistical issue when to came to handling menstrual products in microgravity and tried relating the situation to life on on Earth and spoke to women in the military and rural areas to get a better picture. After speaking to several of them, I realised that the greatest issue was devising a method to help women on the go and that's what I started working on. I designed and developed an initial tool and filed a patent for the same and sought to work on further design iterations, testing and 3D printing the prototype. The project then grew from the Swarovski: Creatives for our Future Cohort and we won the SGAC competition. The project is currently set to be used at an analog mission and presented at the University of Cambridge. I believe in combining creative arts with space so, with a fellow worker, we're currently working on a booklet that explains menstruation through visuals as we didn't want any language barriers in the way of spreading awareness on this topic.
Can you clear up some common misconceptions and fear around landing opportunities in esteemed organisations like LIGO India and Collins Aerospace?
Sejal: I apply for too much stuff, some people would say. My google drive is colour coded files in red, orange and green colours. Red files indicate opportunities I did not get into, green for offers I did get and orange for ongoing processes and to be honest, most of them are red. Of course, a few things have eventually come to fruition but an important aspect for me is documenting the entire process. I would recommend everybody else to do the same too because it really helps monitor your growth. When it comes to applying to huge institutions, it comes down to looking out for openings and simply giving it a shot, for I believe if you don't try it'll be a no but if you go ahead and try, you never know what's in store for you. In a way, simply applying gives the organisation access to you as you become part of the database. The space community despite being large is a very close-knit community and that's why your efforts at the end of the day will get noticed and things will fall through.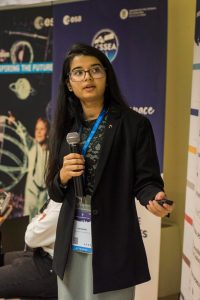 I believe you definitely know and realise the power of networking and building connections in the community. Any tips on how to go about it?
Sejal: One of the things I've learnt by sending such emails is that it's best to try and focus in the quality of the message being conveyed over the quantity. While the quantity is important, people are busy and would rather respond to emails or messages that cut to the chase without beating around the bush. In particular, I would recommend leveraging your position as a student if you are one as everyone at some point in their life has been one and can to an extent relate to where you, as a student, are coming from. Most importantly, always include a call to action in these messages so that the recipient knows exactly what you want, to take things forward. 
How has your experience helped you grow in your role as a science communicator? 
Sejal: I think in science communication, there are two points that I hold of importance. One is that you clearly understand whatever it is that you are trying to communicate and the second is to master the ability to break down the most complex of subjects in the simplest of manners. I believe these two aspects cover the very purpose of science communication.  
Sejal is a big advocate of bringing science to everyone
 One look at your feats and one can tell that it's a lot, how do you manage it all?
Sejal: I multitask, yes, but everyone has their days. There are days when I function on peak productivity and there are days when I do the bare minimum and read a book. But when it comes to managing several things at once, I personally do it because I want to give everything a try when I'm young so as to figure it what I'm really into. Also, I'm a post-it kinda person, I use sticky notes to schedule all of my things. Something that works for me is that I just start things and see where it leads me because that is usually the hardest step.   
On days that aren't necessarily good, who is your inspiration who helps you remember why you started?
Sejal: I think it's very important to have people to look up to. You could be the most passionate person in your field but there are going to be hard days where it helps to seek comfort in an idol. I, for one, believe in not putting the pressure on one person to be the epitome of perfection so I have different inspirations that I look up to through different mediums and they're usually through books and poetry. A piece of history that personally gives me goosebumps is listening to the 'A Pale blue dot' by Carl Sagan. I also draw inspiration from people I interact with on a daily basis because I believe that there's always something you can learn.
Out of all that you've accomplished so far, what are you personally proud of?
Sejal: I think for me when I explained about the 'Gaia' project to a military woman, her response of how she was grateful to even have people thinking about menstruation in such circles and making a difference really touched me and felt like I was creating an impact. Similarly, conversations I have with underprivileged children I teach dance to regard their liking towards space and their aspirations uplift me. Small things like that really matter to me because through these interactions I realise that unknowingly there are so many gaps in society and even if I do a little something that can help them grow with my skills or passion, that's something I can say I'm proud of.   
Any advice you'd like to give to those starting out on a similar journey as you?
Sejal: Absolutely. There are just two words I live by- 'take chances'. Don't ever stop taking chances because if you don't, nobody else will. Especially if you're a woman, I think the lack of numbers in terms of representation is usually what stops us from trying and taking chances over the actual difficulty of the subject which makes it all the more important to never give up on pursuing what we desire.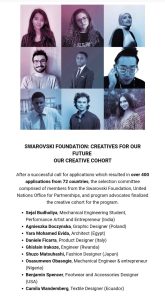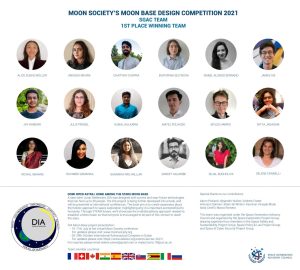 Sejal is an active part of numerous programs and projects
To have spoken to someone whose work reflects such thoughtfulness and intention at such a young age is a truly enlightening experience. We wish Sejal the best in all her future endeavours!
 You can follow Sejal's work here https://in.linkedin.com/in/sejal-budholiya