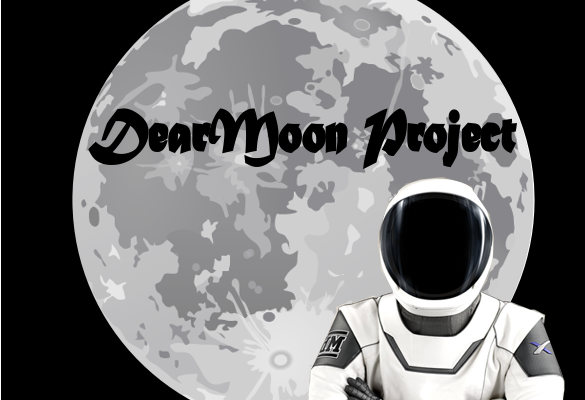 The DearMoon mission is now looking for passengers
Japanese billionaire Yusaku Maezawa is looking for eight members to travel with him on a mission bound for the Moon.
Controversial Japanese entrepreneur Maezawa who previously launched the Girlfriend Contest for a Mission to Space (which ended in failure), announced on March 2 his project DearMoon to send "the first civilian on a mission to the moon." According to the project's website, it is looking for eight members to send on a trip around the Moon aboard SpaceX's Starship spacecraft.
Source: Cyprus Shipping NewsThis project was announced in 2018, and the original goal was to send a group of artists to the Moon. In his latest comment, Maezawa announced that he is looking for applicants to form a team of eight worldwide for a week-long lunar trip.
The following video appeals to civilian astronauts and shows SpaceX's Starship photos taking off with rock music. SpaceX founder and CEO Elon Musk sent a voice message showing his support for this mission, saying, "I think we're going to make a real difference."
Video Source: Yusaku Maezawa【MZ】
Maezawa says in the video: "I invite you to join me in this mission. Eight of you are from all over the world. The mission will start two years from now, in 2023. I want people of all races to join me".
For anyone wishing to become one of these eight, Maezawa did not specify the basic qualifications for selection. Contest registration is permitted until March 14 at 9:59 PM EST. After that, the site states that all those who have previously registered will receive an email about the selection process.
After registration, an initial survey will be conducted to select the applicants (which will take place on March 21), after which they will be interviewed via the Internet, a final interview, and a medical examination, and that will take place at the end of May of this year.
Speaking about the Moon and the projects around it, let's talk elaborately about our marvelous Moon:
Starship could start traveling to the Moon by 2022
The SpaceX spacecraft – which is scheduled to land on Mars to make its first human colony – will leave the planet and make its first landing for a short period in three years. SpaceX is one of five companies newly qualified to deliver robotic payloads to the surface of the Moon for NASA through the agency's Commercial Lunar Payload Services (CLPS) program.
A brief on CLPS:
CLPS is an innovative, service-based, competitive acquisition approach that enables rapid, affordable, and frequent access to the Lunar surface via a growing market of American commercial providers. 
PRISM is not part of CLPS but is a separate SMD procurement mechanism for PI-led science instrument suites, intended for lunar delivery aboard a subsequent CLPS delivery flight.

All NASA-sponsored payloads (including PRISM awardees) are manifested by a CLPS Manifest Selection Board with multi-directorate representation.
CLPS Delivery Task Orders for NASA-sponsored payloads, so payloads seeking NASA sponsorship are strongly dissuaded from tailoring their payload to any specific CLPS provider.
CLPS Task Orders are firm fixed price, so all payload-sourced requirements must be known and documented prior to a CLPS RFTP release.
All NASA-sponsored payloads will be assisted by a PIM and Project Scientist to guide you through the integration process and maximize your science.
SpaceX is supposed to do this with both Starship and Super Heavy, both of which are space companies involved in developing spacecraft to make human beings able to exist in space.
The spacecraft could begin placing NASA payloads on Earth's closest neighbor (the intended meaning is the Moon) soon if everything goes according to plan. "We aim to be able to download the spacecraft to the surface of the Moon in 2022," said Gwynne Shotwell, SpaceSp President and Operations Director, during a conference call for the CLPS program organized by NASA on Monday (November 18). 
There are no guarantees for SpaceX to travel with the CLPS mission in that year or any year. SpaceX is currently eligible to bid on lunar delivery services to NASA; It has yet to conquer the rest of the CLPS group, which is now 14 strong companies, each with a contract for the Moon.
In addition, every mission flown by spacecraft under the auspices of CLPS will transport equipment to various customers. Shotwell said the spacecraft could carry 110 tons (100 metric tons) to the Moon's dusty gray surface on every flight, and it's hard to imagine NASA doing this on its own. 
NASA views CLPS as a significant catalyst in its Artemis moon exploration program with human crews, which aims to place two astronauts, including the first woman on the Moon's surface, by 2024 and establish a long-term human presence there by 2028.
Agency officials confirmed – the commercial spacecraft would land the instruments and experiments – such as the fluctuations of flying water that NASA is conducting to map ice and water – that pave the way for these astronauts. 
NASA officials said during a phone call that buying a flight on a private jet, rather than developing and building its owners, would save the agency a great deal of money. SpaceX is excited about the CLPS partnership, too. 
Shotwell said the spacecraft has always been designed to transport people. Still, early efforts that have not been made, such as the launch of satellite communications, CLPS flights, and cargo missions to the surface of Mars, will prove the vehicle's capabilities. 
"The CLPS is an amazing part of what we want to do with the spacecraft," she added. SpaceX has one space mission with a human crew – a trip around the Moon booked by Japanese billionaire Yusaku Maezawa, who plans to take a bunch of artists with him.
This mission is targeted for 2023. There are milestones in the spacecraft coming shortly as well. SpaceX founder and CEO Elon Musk recently unveiled a shiny new full-size prototype vehicle, known as the Starship Mk1, which could begin making unexplored test flights of 12 miles (20 km) in the next few months. 
The other four companies that join the CLPS group today are California-based Ceres Robotics and Tyvak Nano-Satellite Systems Inc.; The Sierra Nevada Corp of Colorado; And Washington Blue Origin, which will use the lander: Blue Moon. 
The other nine companies eligible for CLPS were announced in November of 2018. Two of them – Astrobotic and Intuitive Machines – are due to deliver NASA scientific equipment and various other payloads to the surface of the Moon on July 2021. 
NASA is also looking to the private sector to build the Artemis lander. The agency selected 11 companies last May to conduct studies and build prototypes, and this complex had to submit detailed proposals by November 8. NASA is expected to select up to four contestants early next year.
Suggested Reading 1: Why SpaceX launched four astronauts to the ISS?
Suggested Reading 2: Starship SN15 successful landing after High Altitude Test
Author
Rafid Hasan Abdullah Yahya Dejrah