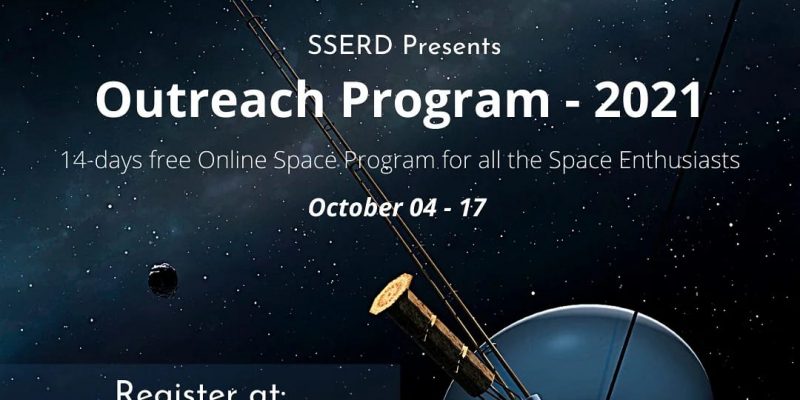 Society for Space Education, Research and Development (SSERD) has been an independent, non-profit organization dedicated to making space education accessible to everyone globally since 2016. It has a reach of 50,000+ students from more than 50+ countries through various space programs.
SSERD's Outreach Program is an initiative of connecting space enthusiasts throughout the world, giving them a chance to acknowledge the beauty of Space, Science, and Technology.
So, what are you waiting for? Seize the opportunity to be a part of 1 Million Space Enthusiasts exploring the space along with SSERD for a whole week during the Outreach Program '21. The program includes Outreach activities [October 11th – 17th] for School Students, University Students, Teachers, and the Common Public globally.
University Students 
Being a university student is the time of your life where you are not only there to enjoy college life, but also to get vast exposure to the opportunities, to learn and acquire skills to achieve your goals, and shape up your future. The Outreach Program brings you an opportunity to learn from eminent personalities across the globe and gives you a platform to showcase your analytical and creative mindset with various competitions.
We have also organized the Outreach Competitions to give you exposure to new skills like creative writing and analytical thinking; these competitions include creative fictional writing, artistic science, building up models, and problem-solving.
School Students 
A student (just like a sapling) with the right exposure to opportunities (sunlight), a good source of knowledge (water), and the right platform (nutrient-rich soil) develop amicable aspirations. Outreach Program provides you with that very stage to learn the mysteries of the expansive Universe! It also makes you develop your interest in space and the cosmos. We also have several competitions for school students.
Sessions on diverse fields of space such as aviation, aeronautics, space & astronomy advancements, space journey, and careers in space are organized from October 11th – 17th, where students have an excellent opportunity to learn about our fascinating Universe with our speakers.
And since school students also should be given a platform to present their talents, we have several competitions for you as well. These competitions include solving problem statements, space quizzes, space artists, and more, which let you show your talent and give you the confidence to take with them for future ventures.
Teachers 
Every entity in the Universe is guided either by natural sources or, in our case, by amazing teachers. And to improve the guidance a student receives, Outreach Program provides training on new methods to steer the upcoming generations.
In this pandemic, to give a glimpse of interactive ways to modernize teaching methods through online aids, we bring special sessions for hardworking and dedicated teachers across the globe. These include organizing outreach activities for students, event planning, and organizing competitions, which will bridge the gap between students and teachers.
Common Public 
Well, everyone deserves an opportunity to understand the working of the Universe. Hence, we believe that 'Space' is for all. Knowing about the upcoming space missions, astronomical events, eclipses, star gazing, etc., are the things that connect space communicators to the public. And here, SSERD brings an opportunity and welcomes everyone with the passion for comprehending the vastness of the world we live in with our Outreach Program.
For everyone out there, we have amazing programs scheduled for this week. Register yourself and join us at the SSERD's Outreach Program. Click here to know more about the schedule. (https://outreach.sserd.org/schedule.html). To know more about competitions, click here (https://outreach.sserd.org/competitions.html).